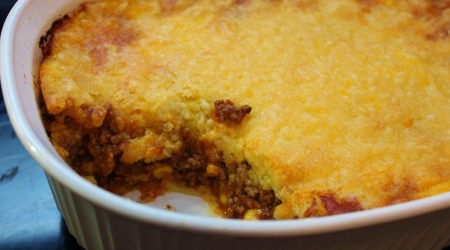 Ingredients:
MEAT FILLING
4 green onions
1-1 1/2 pounds of ground beef (or turkey whatever you prefer)
one 8 oz can hunts natural tomato sauce
one raw corn on the cob
1 tablespoon veg oil
CORN CRUST
1/2 cup flour
3/4 cup corn meal
1 teaspoon baking soda
1 teaspoon salt
1 1/2 tablespoon veg oil, 1 1/2 tablespoon water, 1 tsp baking powder
1 cup rice milk
4 teaspoons white vinegar
2 tablespoons veg oil
Preheat oven to 400 degrees.
Beef mixture: Fry green onions in veg oil, add ground beef cook thoroughly, drain fat. Slice all corn of cob and throw into pan, add beef and green onions. Add tomato sauce and simmer for 5 minutes. Put beef mixture into a pyrex or other baking dish.
Crust: In a small bowl, put 1 cup rice milk and 4 teaspoons of white vinegar mix and let sit for about 5 minutes.
In a large bowl, mix dry ingredients.
In another small bowl, mix oil, water and baking powder mixture then add to dry ingredients.
Add rice milk and vinegar mixture into large bowl. Mix all together and pour over beef mixture.
Bake for 20 minutes.
For the family members like myself who can eat dairy, you can add a dallop of sour cream to the top!! Enjoy