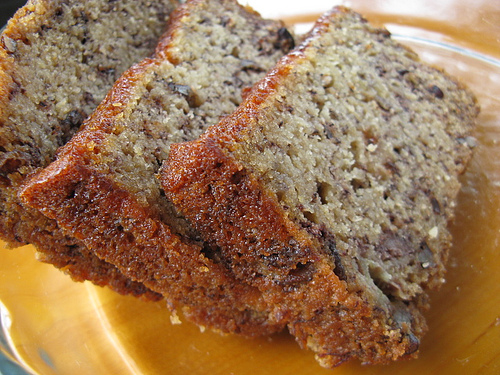 I just love, love, love the way our house smells when we bake this bread!
It's moist, it's delicious, and a great snack to send for school!
2 over ripe bananas
1/2 cup veg oil
1 1/2 cup flour
1/2 cup applesauce
1 cup brown sugar
1/4 tsp salt
1/2 tsp baking soda
With mixer:
Blend oil, sugar, and applesauce.
In another bowl: mix flour, salt and baking soda with a fork till combined.
Add dry ingredients to wet ingredients.
Smash bananas till smooth , then blend into batter.
Grease and flour bread pan.
Pour batter into pan and cover with foil.
Place bread pan over cookie sheet.
Bake for 45 min-1 hour, then remove foil and bake for 15 minutes until brown on top.
Most Important~
After bread comes out of oven, let it cool for about 5-10 minutes at most. Wrap tightly in 2 layers of plastic wrap. It traps steam and makes a moist, dense bread!
Let cool completely before serving.